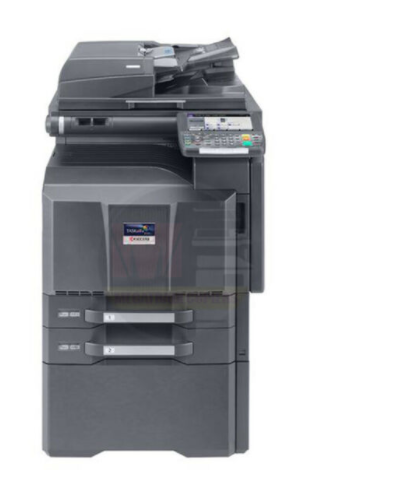 Kyocera Copiers ranks among the top 10 copiers in the world due to its top-notch performance and budget-friendly prices. It is also capable of wireless and mobile printing that makes printing available anytime and anywhere without compromising the print quality.
One of the new release series of TASKalfa MFPs is multifunction with laser printer technology printer Kyocera TASKalfa 3050ci Copier that has the advanced ability to handle copying, printing, scanning, and faxing jobs with utmost efficiency. Its standard functions are copying, printing, and scanning. The optional functions include fax, feeder, and finisher. Kyocera TASkalfa 3050ci Copier is available for copier rental and copiers for lease. The rental agreement lets you use the machine for your business activities while you pay for the cost per month. Copiers for lease normally depend on the price of the machine, the service required and the volume of copies you release per month. Copier leasing has different types. You have the option to choose a top-end lease agreement that lets you have more printer consumables that are included with additional charges or a low-end lease agreement that only covers emergency repairs.
Kyocera TASKalfa 3050ci Copier Best Features
This copier can handle small to medium scale business enterprises printing jobs. It has a standard memory of 2GB and a hard disk drive of 160 GB. The machine has a processing high speed of up to 800MHz and up to 600 MHz for mid-range MFPs.
· Print at ease with varying media sizes up to 11' x 17" or A3, 8.5" x 11" and 8.5" x 14" or A4 paper sizes and it also has the paper capacity of 1,100 sheets. There are input trays and output trays that may contain a maximum of 500 sheets each together with the bypass tray that may contain 100 sheets.
· The max copying resolution is up to 600 x 600 dpi both for monochromatic and coloring pages. It has advanced color technology for the excellent quality of prints. It is easy to use and capable of producing high-quality prints in large volumes. Standard color scanning, it includes scan-to-email, scan-to-FTP, WSD scanning, and LDAP support.
· With its superior performance, the copier can deliver 30 pages per minute with a maximum of 9600 x 600 dpi interpolated / 8 depth printing resolution. It can produce 150,000 pages on its maximum duty cycle per month. The first page is out in less than 6.2 seconds for black and white prints.
· The copier has an advanced finishing option that includes a hole punch, off-line staple, and booklet or trifold finish that keeps all paper handling organized at all times.
Common Issues Encountered with Kyocera TASKalfa 3050ci Copier and How to Solve It
Black Lines and Smudges for Print
This problem may be caused by improper installation of the Drum developer Assembly, the Drum is scratched or stained, the charger is stained or the cleaning unit for the PCU has worn out. Follow the steps below to resolve the black lines and smudges in the print:
Click on the Machine: Maintenance. Choose Adjustment Settings for Skill Operators and then choose Execute Charger Cleaning. If there are still black lines or smudges, detach the charging unit and check the surface. Also, check if the drum surface is stained or scratched. If the surface is stained, contact your service representative or technician to install it properly or to replace it.
Toner Spotting/Staining
This image quality problem may cause of 0.5 – 1mm toner spots. This may occur if you are printing on both sides of the paper, printing on rough textured paper, or printing a single-dot halftone image. To resolve this, you may do the following steps:
Make sure to pre-register the type of paper that you will be using. Click on the Paper Settings and see Registering a Custom Paper. Click on the Advanced Settings then choose Fusing Heat Roller Temperature Adjustment and increase the temperature to five degrees. If the problem is still not resolved then increase it again to another five degrees. If the changes above resulted in glossy lines or paper jam, decrease the temperature to 10 degrees. Click on Advanced Settings then set the Adjust Cleaning Web Motor Interval to 0.01. If there is no further improvement, it is best to contact your service representative or technicians.
Scratches or Streaks Appear on the Image / Horizontal White Bands
Scratches or streaks appear on the image may be caused by too high or too low paper feed speed of the exit monitor, switchback entrance, or switchback exit. Resolve the problem by following these steps:
Click on the Advanced Settings and adjust the paper feed speed for delivery. The paper feed speed depends on the type of printing. For one-sided printing, click on the Exit Motor Speed Adjustment and reduce the value to 0.1%. For duplex printing, click on the Switchback Entrance Feed Speed Adjustment and reduce the value to 0.1%. For one-sided printing but the delivery of the paper is inverted, click on Switchback Exit Feed Speed Adjustment and reduce the value to 0.1%. Print the image and check if the issue is resolved. If not, keep on decreasing the value by 0.1%. If the problem persists, contact your service representative or technicians.
Horizontal White Bands appear on the paper when you print it due to the static electricity produced by the friction between the conveyor belt and the paper when you use a synthetic paper or the transparent film is used. To solve this, all you have to do is go to the Advanced Settings then increase the value in Paper Transfer Current Setting Side 1 or paper Transfer Setting: Side 2 by -20µA. For example, if it is currently -100 µA change it to -120 µA.
Conclusion
For business starters, they usually opt to look for copiers for lease or copier rental rather than paying for it in one go. Multifunction printers are costly so copiers on lease give the business a clear path on where their cash flows with a fixed cost per month and lease periods.
If you are looking for a copier in Fort Wayne, you can contact Fort Wayne (260) 204-0032. You can ask about Copier Lease in Fort Wayne, copier rental in Fort Wayne, and even Copier Repair in Fort Wayne.